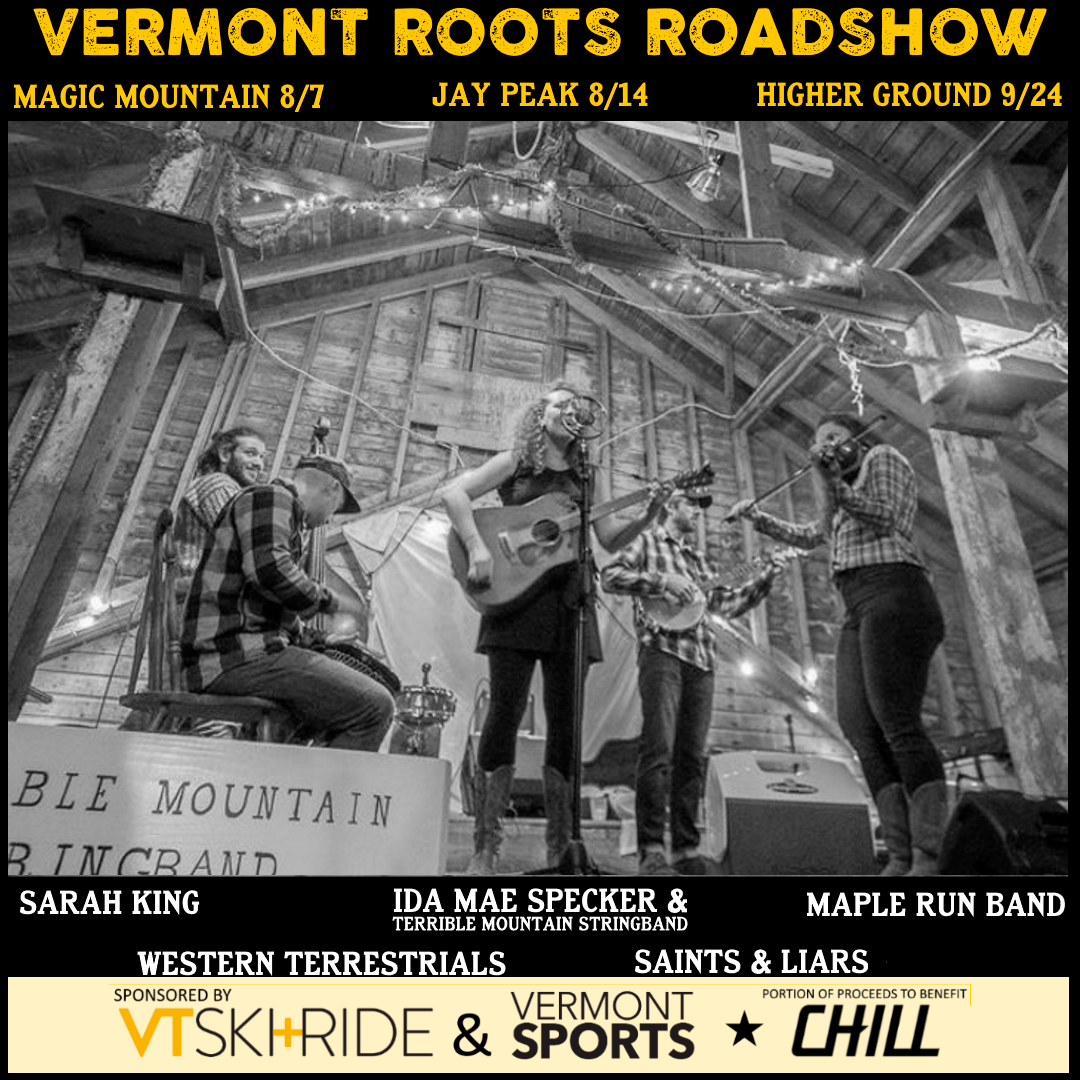 5-Band "Vermont Roots Roadshow" Tour Announced for Summer 2021 - Showcasing Americana, Country, and Traditional Music from the Green Mountains.  
Vermont -  Today, the "Vermont Roots Roadshow" live music showcase announced three dates. The showcase features performances by Vermont acts Ida Mae Specker and Terrible Mountain Stringband, Maple Run Band, Saints & Liars, Sarah King, and Western Terrestrials. A celebration of the Green Mountain State's legacy of traditional and original music, the concerts offer Vermonters an opportunity to gather, celebrate, sing, and dance together again. 
The first three "Vermont Roots Roadshow" dates announced are: 
Tickets and information can be found at https://www.VermontRootsRoadshow.com. 
All shows will adhere to state Covid safety guidelines.  The shows are sponsored in part by Vermont Ski+Ride and Vermont Sports (https://vtskiandride.com/), and a portion of the proceeds will go towards Chill (www.chill.org), a non-profit founded by Donna and Jake Carpenter supporting youth development programs. 
"We wanted to take a 'united we stand' approach towards building a revitalized Vermont roots music scene together," explained Trevor Crist, from Maple Run Band.  Jed Hughes, of longtime New England live music stalwarts Saints and Liars, elaborated further. "In a time when so many of us are longing for the collective experience of live music, we wanted to celebrate its return with some of our friends from around the state who share our love of Americana, bluegrass, honky tonk, and roadhouse music." 
"I can't wait to play live music for and with real humans again. This past year has been both challenging and rewarding for all of us, and I'm pumped to kick off a new start with such a strong group," said Sarah King.  It's a sentiment shared by Nick Charyk, of Western Terrestrials.  "The other acts on this bill are some of my favorite musicians anywhere, period.  It's an embarrassment of riches that they all hail from Vermont.  We've all put out records and new music during quarantine, and it's been the soundtrack that has kept me going during some darker days.  I can't wait to see these tunes played live and be a part of that experience." 
A 3rd generation fiddle player, Ida Mae Specker is equally enthusiastic about the Vermont Roots Roadshow format. "Vermont has long been steeped in old time and traditional folk music.  Each act on this bill celebrates and reinterprets this tradition in their own unique way. This will be a rollicking and raucous roadshow, but a reverent one too." 
"Vermont has a rich history with country music and bluegrass.  It's nice to see a package show touring the state once again," concluded Cousin Early, a Vermont country music DJ and editor of Honky Tonk Times.  "These will be must see shows." 
Additional Vermont Roots Roadshow dates are expected to follow. 
MORE ABOUT THE "VERMONT ROOTS ROADSHOW" ACTS 
Ida Mae Specker 
www.idamaespecker.com 
Ida Mae Specker and Terrible Mountain Stringband fuse original and traditional material, bringing heartfelt new life and relevance to the chain of American folk music. Third generation fiddle players, Ida Mae and Lila Specker were born in a one-room cabin at the foot of Terrible Mountain in Andover, Vermont. Together with Josh Norman on guitar, vocals and percussion, Lila and Ida Mae formed Terrible Mountain Stringband in 2017. They are joined by multi-instrumentalist Miller Nuttle on banjo and virtuoso Mowgli Giannitti on bass. Playing a blend of Ida Mae's recently released originals and old-time fiddle tunes, the band pays homage to the past while continuously evolving their unique sound. 
Maple Run Band 
Maple Run Band released their debut, self-titled album in August, 2020 to critical acclaim. Several songs landed on playlists for both terrestrial and online radio stations worldwide, landing the band a spot on the Alt.Country charts soon after release. The band's repertoire of original Americana music is driven by the vocal harmonies of multi-instrumentalist Trevor Crist and drummer Nicole Valcour. Vermont guitar legend Bill Mullins (Barbacoa) contributes inventive and melodic leads, and John Spencer holds down the bass lines.  Seven Days sums up the band's signature sound as "honest songwriting, tight arrangements and outstanding musicianship." 
Saints & Liars 
www.saintsandliars.com 
Saints & Liars is a four-piece Americana group from Southern Vermont, blending their own variants of honky tonk, folk, bluegrass, and rock n roll. They've become known as "Vermont's roadhouse roots band", having thrived in such venues throughout New England since 2012. Members include, Jed Hughes [guitars, lead vocals], Mike Farkas [guitars, vocals], Chris Rogers [bass], and Nolan Rolnick [drums]. The group remained a live performance driven band until late 2020, when they decided to record their first studio album, entitled 'These Times'. Influenced by social distancing, and without the opportunity to continue playing frequent shows as they always have, the band took to the recording studio in an effort to find a sense of normalcy and relieve their pent-up creative energy. Wildly fun and refreshingly raw, Saints & Liars aim to entertain. Dance. Stomp. Sing along. 
Sarah King 
www.sarahkingsings.com 
Sarah King inhabits the dark side of Americana, creating gritty murder ballads and feminist anthems anchored by her atmospheric voice and rhythmic blues guitar. "I always say my influences are bourbon and bad decisions," she explains when asked about her gothic country style. On her debut solo EP, The Hour, King stands up to the idea that women should just smile and be quiet, exploring how righteous anger, revenge, and fear can actually lead to empowerment.  Produced by Simone Felice (The Lumineers, Matt Maeson, Jade Bird), together, the songs on The Hour mark the evolution of King's sound, and a promise that she will make her voice, and those of women everywhere, heard. 
Western Terrestrials 
www.westernterrestrials.com 
Honky-tonk outsiders Western Terrestrials blend their love for the weird with the twang of classic country, creating a sound that's honest, irreverent, and upfront about what they believe in. Their second album Back in the Saddle of a Fever Dream captures them in all their contradictory glory. Earning praise as an unconventional new voice on the country scene, the album was produced by Dean Miller, son of Roger Miller, and features a duet with Georgette Jones, daughter of Tammy Wynette and George Jones. It reached #11 on the Alt Country Specialty Chart, won a Times Argus Tammie award for Best Country Album, and earned them a spot as featured artists on the legendary WSM radio station. The album also includes a song co-written with Ketch Secor of Old Crow Medicine Show, "Ethan Alien," which Western Terrestrials are turning into a feature film, a honky-tonk space opera out in August, 2021.