A 3rd generation fiddle player, Ida Mae was born in a one room cabin in the woods of Vermont. Along with her older sister Lila, she learned to play the fiddle at a very early age from her father John Specker. 
Vermont Public Radio's Robert Resnik calls the Specker family "Vermont Folk Heroes." The Speckers have been performing since 2005 and are renowned for "playing a rambunctious version of old-time music that owes as much to punk rock as Appalachia, at least in attitude." (Seven Days VT). 
As a solo performer, Ida Mae fuses original, contemporary, and traditional material, bringing heartfelt new life and relevance to the chain of American folk music. Her EP of original music, 'Billy in the Heartland,' was released in December 2019. During the winter of 2020-2021, Ida Mae guest-hosted Vermont Public Radio's folk and world music show "All The Traditions," a temporary position which she is reprising in July 2023. In December 2021, Ida Mae was awarded a grant from the Vermont Arts Council to record live in-studio performance videos highlighting her emerging solo work. Ida Mae is currently touring with a backing band, frequently featuring Marc Edwards on guitar, Henry Clark on Mandolin, and Mowgli Giannitti on upright bass. They are releasing their first EP in summer 2023, recorded in a live session at the Peru Church in Peru, VT, by Dan Rome and Austin Burrell (Future Fields, Burlington). She also performs frequently with Michael James Wheeler and Will Seeders. In addition to performing her original material as a solo performer or with a full band, she is a member of traditional old-time string bands Terrible Mountain Stringband and The Speckers (fiddle, vocals), and is a member of the all-female, folk-punk trio The Break Maids (drums, fiddle, vocals).  
Ida Mae loves being a part of the blossoming local music scene in Vermont and is always pursuing new opportunities to collaborate and develop as an artist.
"When Ida Mae Specker deploys scratch triplets, she does so in such a relaxed and natural manner that the effect is more like a bent note in the blues, like a little slingshot that throws the tune forward to make it swing a little. There is as much Mississippi Sheiks in her style as there is Appalachia."
"Ida Mae makes time-worn classics seem like they were written just for her." 
~ Seven Days VT
"Old-time music is my foundation. I think of it as a well, or a spring; new possibilities and artistic inspirations are constantly flowing from a single source... Every time someone plays a tune, a melody that is hundreds of years old is transformed and reinterpreted in a modern way. It's a way of channeling and invoking voices from the past, but it's also a way of expressing your individuality. As long as people continue to pass on the music to the next generation, it will continue to serve its purpose. As my dad says, we are just 'kinks in the chain.'"      ~ IMS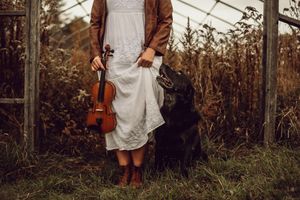 Ida Mae released her first
solo 

album

'Single Girl' in 2013.
The album features her on fiddle, guitar, washboard, and kick drum, singing lead and harmony vocals. Reviewer Dan Bolles lauded her visceral, woozy grit, and compared her version of the classic 'In The Pines' with the definitive Leadbelly and Bill Monroe versions. He went on to state that, "much like her father, Ida Mae Specker is a profoundly gifted and technically sound fiddler. Her multifaceted bowing technique is particularly impressive. In terms of raw energy, Single Girl stands about a country mile from the majority of bluegrass and old-time releases." 
​​Ida Mae released her second solo EP 'Billy in the Heartland' in December 2019. This new EP represents her first release of all-original music (plus one traditional ballad), and is a departure into new, exciting territory. Brendon Thomas, from nearby Chester, VT, engineered the record at Owl Sounds studio and played the majority of the instruments. He is known as 1/3 of touring indie-folk band 'The End of America.' 
​ Seven Days VT reviewer Margaret Grayson praised Specker's version of traditional ballad Wagoner's Lad. She compares the version to Joan Baez's, saying, 
"Specker's brilliant decision to strum instead of fingerpick makes the century-old song feel completely new. It also demonstrates her strong vocals and ability to create something unique in a genre that's recycled the same tunes for generations." 
Grayson also notes that on original song 'Red Dust in Texas,' 
"Specker digs in on a powerful, guitar-fueled chorus with an outlaw country vibe that wouldn't be out of place on Tanya Tucker's comeback album."